Repairs Centre
Click Here for Service Repair Form
Repairs Centre
Here to Help
Our In-House Repair Facility not only provides after sales support for the products we sell, we can in many instances service and repair other instruments as well.
Whether it's just a battery replacement or something more serious, we will be pleased to help. So if you are ever in the situation where you're not sure who to turn to, why not give us a call.
Estimates are free of charge and we offer a 90 day warranty on all work carried out.
Technicians
All our technicians have had extensive training in all aspects of repair and maintenance of the products we offer. You will be able to speak personally to the technician undertaking the repair for advice on maintenance and their diagnosis of faults found with your equipment.
Facilities and Equipment
We have a newly refurbished, well equipped workshop based at our Marden headquarters. As part of our ISO 9001 quality system all our test equipment, such as multi-meters, oscilloscopes, refractometers etc. are calibration checked in accordance with manufacturers guidelines to ensure consistent and reliable performance.
We service and repair:
Re-chargable and Corded Clippers,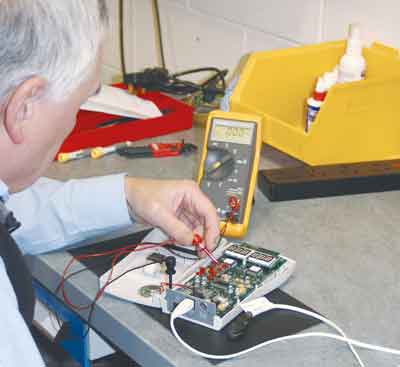 Autoclaves, Breathing Systems, Centrifuges,
Clippers Blade Sharpening, Dental Scalers/Polishers, Diagnostic Sets,
Heavy Duty Scales, Weighing Scales, Patient Monitors,
Electrosurgery Units, Infusion Pumps, Suction Units,
Lights, Ultrasonic Baths and much more!
**have a new battery fitted at the same time and save 10% off the battery price
The actual cost of the repair will vary dependant on the extent of the work that is required and the cost of any replacement parts used.
When sending any item to us for repair, please ensure that you either enclose a covering letter with your contact details and a description of the fault or complete a 'workshop repairs form' available to download below. If you require an estimate before the work is carried out this should be stated in the covering letter, otherwise repairs below £150 will be automatically carried out and the equipment returned to you as soon as possible.
We not only provide after sales support for all the products in our range, we can also help with repairs to other items too! So the next time something goes bang, why not give us a call. If you decide not to proceed with the repair after an estimate has been provided we will either return or dispose of the item for you. Please ensure that any item you intend sending has been thoroughly decontaminated first. We reserve the right to return an item to you unrepaired if it is thought to be hazardous to the health of our employees.
When sending your items please protect your equipment with suitable and adequate amounts of packaging, make sure the outside of the box has your return address on it in case of non delivery and always send items by a carrier service that will obtain a signature on delivery and do take out insurance against loss or damage in transit. You will appreciate that we can only assume responsibilty for your item once it has been received at our premises.
In order for us to process your returned item as quickly as possible please download the following file, fill it in accordingly and send it to us along with your faulty item:
Click Here for Service Repair Form
If you have any further enquiries regarding in-house repairs and the equipment we are able to service and repair please contact the workshop team on 01622 834375.
There are no products matching the selection.